« Return to Previous Page
coffee plunger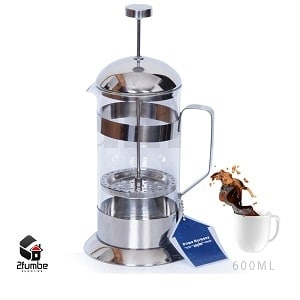 coffee plunger
---
A coffee plunger, or French press, is a simple device for making coffee at home or, with a small, portable model, even on the go. A coffee plunger consists of a cylindrical glass pot and a plunger with a filter screen.
Brewing a cup of coffee is very convenient with this small kitchen appliance, because it requires only water and some ground coffee. By knowing some simple facts about making coffee, it is possible to prepare a delicious hot drink in no time.
1 Start with delicious freshly roasted coffee.
2 Preheat your cup and plunger with hot boiled water.
3 Add to the plunger, one rounded tablespoon of correctly ground coffee per cup (ie ground coarser than for espresso).
4 Add the required number of cups of freshly boiled water. Gently stir to mix the grounds, then replace the lid. Be careful not to chip the glass when stirring.
Good fresh coffee will create a slightly creamy look, as carbon dioxide is released.
5 Wait no more than a few minutes, then depress the plunger slowly to avoid spillage, and to keep all the coffee below the mesh. It is safest to place the plunger on a non-slip surface.
---
---
Description

Product Description

As with filter coffee, plunger coffee brewing reveals the delicate taste nuances that espresso brewing may overpower. Serve immediately – as the coffee will grow bitter if left too long in the plunger. For the perfect water temperature, bring the water to a boil, and let it cool a few seconds.

A coffee plunger requires coffee of a coarser grind than does a drip brew coffee filter, as finer grounds will seep through the press filter and into the coffee.[2] Coffee is brewed by placing the coffee and water together, stirring it and leaving to brew for a few minutes, then pressing the plunger to trap the coffee grounds at the bottom of the beaker.
Because the coffee grounds remain in direct contact with the brewing water and the grounds are filtered from the water via a mesh instead of a paper filter, coffee brewed with the French press captures more of the coffee's flavour and essential oils, which would become trapped in a traditional drip brew machine's paper filters.[3] As with drip-brewed coffee, French pressed coffee can be brewed to any strength by adjusting the amount of ground coffee which is brewed. If the used grounds remain in the drink after brewing, French pressed coffee left to stand can become "bitter", though this is an effect that many users of French press consider beneficial. For a 1⁄2-litre (0.11 imp gal; 0.13 US gal) French press, the contents are considered spoiled, by some reports, after around 20 minutes.[4] Other approaches consider a brew period that may extend to hours as a method of superior production.

Custom Tab For All Products

ABOUT US

2FUMBE is currently a well known brand of supplies and home appliances around the Uganda. The brand which started with a range of ceramic and glassware has now expanded its products range to refridgerators, microwaves , electric & gas cookers and many more household products. Then company's approach of highest level of customization and its focus on premium quality products has led to the acceptance of its products in all parts of the East Africa and across all sections of society.

Over the past 2 years, we have taken great steps towards growth. Thanks to the constant effort, creativity and innovation of the management, we at 2fumbe, are building on our achievements, striving to procure our current agendas and are able to draw new strategic plans to adapt to latest developments.

Save Your Time & Money on Sourcing Home Appliances. Visit our social media pages @2fumbe(instagram | facebook | twitter) or simply call/whatsapp +256 775 914 080 to order and get free delivery.

MISSION

Our goal definitely is to be No.1 in household and kitchen supply. Our mission is to make 2Fumbe a synonym for quality & excellence and ensure its global presence. This is to be achieved by observing highest standards of ethics, transparency and consistency.

We also strive to provide the highest level of customer satisfaction possible, while maintaining competitive market prices and working towards expanding the product line. Within the company we will strive to work as a cohesive, harmonious unit focused on exemplifying our mission.

The company fosters the ideals of meeting customers' needs and developing good healthy relationships with partners in business, combined with a professional commitment to satisfaction, which together will help to ensure the company's success.