« Return to Previous Page
7 IN 1 Food Processor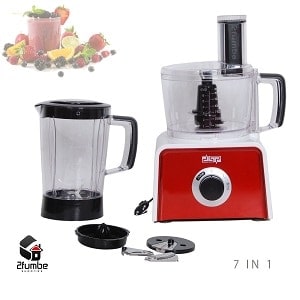 7 IN 1 Food Processor
---
1.5 litre blender jar
1.5 litre chopping jar
Chopping blade
Shredding, grating, slicing blades
Citrus press
Motor
---
---
Description

Product Description

A food processor is a kitchen appliance used to facilitate repetitive tasks in the preparation of food.
Today, the term almost always refers to an electric-motor-driven appliance, although there are some manual devices also referred to as "food processors".
Food processors are similar to blenders in many forms. The primary difference is that food processors use interchangeable blades and disks (attachments) rather than a fixed blade.
Also, their bowls are wider and shorter, a more proper shape for the solid or semi-solid foods usually worked in a food processor.
Usually, little or no liquid is required in the operation of the food processor, unlike a blender, which requires a certain amount of liquid for the particles to move around the blade.

Functions
Food processors normally have multiple functions, depending on the placement and type of attachment or blade.
These functions normally include:

Slicing/chopping vegetables
Grinding items such as nuts, seeds (e.g. spices), meat, or dried fruit
Shredding or grating cheese or vegetables
Pureeing
Mixing and kneading doughs

The base of the unit houses a motor which turns a vertical shaft. A bowl, usually made of transparent plastic, fits around the shaft. Cutting blades can be attached to the shaft; these fit so as to operate near the bottom of the bowl. Shredding or slicing disks can be attached instead; these spin near the top of the bowl. A lid with a "feed tube" is then fitted onto the bowl.

The feed tube allows ingredients to be added while chopping, grinding or pureeing. It also serves as a chute through which items are introduced to shredding or slicing disks. A "pusher" is provided, sized to slide through the feed tube, protecting the user's fingers.

Almost all modern food processors have safety devices which prevent the motor from operating if the bowl is not properly secured to the base or if the lid is not properly secured to the bowl.

Custom Tab For All Products

ABOUT US

2FUMBE is currently a well known brand of supplies and home appliances around the Uganda. The brand which started with a range of ceramic and glassware has now expanded its products range to refridgerators, microwaves , electric & gas cookers and many more household products. Then company's approach of highest level of customization and its focus on premium quality products has led to the acceptance of its products in all parts of the East Africa and across all sections of society.

Over the past 2 years, we have taken great steps towards growth. Thanks to the constant effort, creativity and innovation of the management, we at 2fumbe, are building on our achievements, striving to procure our current agendas and are able to draw new strategic plans to adapt to latest developments.

Save Your Time & Money on Sourcing Home Appliances. Visit our social media pages @2fumbe(instagram | facebook | twitter) or simply call/whatsapp +256 775 914 080 to order and get free delivery.

MISSION

Our goal definitely is to be No.1 in household and kitchen supply. Our mission is to make 2Fumbe a synonym for quality & excellence and ensure its global presence. This is to be achieved by observing highest standards of ethics, transparency and consistency.

We also strive to provide the highest level of customer satisfaction possible, while maintaining competitive market prices and working towards expanding the product line. Within the company we will strive to work as a cohesive, harmonious unit focused on exemplifying our mission.

The company fosters the ideals of meeting customers' needs and developing good healthy relationships with partners in business, combined with a professional commitment to satisfaction, which together will help to ensure the company's success.