« Return to Previous Page
Multi function electric pressure cooker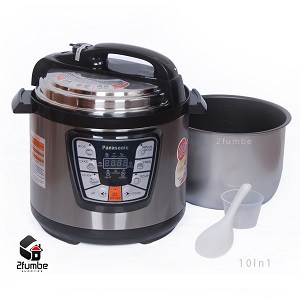 Multi function electric pressure cooker
---
Electronic Pressure Cooker
It combines the functions of a pressure cooker, slow cooker, rice cooker/porridge maker, steamer, saute/browning, yogurt maker and warmer. Using the built-in smart programs (Soup, Meat, Stew, Bean, Poultry, Saute, Steam, Rice, Porridge, Multi grain, Slow Cook, Keep-Warm, Yogurt) your favorite dishes are within the reach of pressing a button.
6 liters
electric efficient
Keep warm function
Cool body touch
Temperature protection device
Non-stick coating inner pot
Digital touch setting
LED timer display screen
free delivery
---
---
Description

Product Description

Mostmulti function electric pressure cooker have a cooking (operating) pressure setting between 0.8 – 1 bar (11.6 – 15 psi) (gauge) so the pressure cooker operates at 1.8 to 2.0 bar (absolute). The standard cooking pressure of 15 psi gauge was determined by the United States Department of Agriculture in 1917. At this pressure, water boils at 121 °C (250 °F) (described in vapour pressure of water article).
The higher temperature causes food to cook faster; cooking times can typically be reduced to one-third of the time for conventional cooking methods.[11] The actual cooking time also depends on the pressure release method used after timing (see Pressure release methods for details) and the thickness and density of the food, since thicker (and denser) foods take longer to cook. Meat joints and some other foods like sponge puddings and Christmas puddings are typically timed according to their weight. Frozen foods need extra cooking time to allow for thawing.
When pressure cooking at 1 bar/15 psi (gauge), approximate cooking times are one minute for shredded cabbage, seven minutes for boiled potatoes (if cut small, not diced) and three minutes for fresh green beans. If the pressure is released naturally after timing (see Pressure release methods for details), cooking times are even shorter. Food cooks more quickly when cut into smaller pieces.
Some recipes may require cooking at lower than 1 bar/15 psi (gauge) e.g. fresh vegetables, as these can easily overcook. Many multi function electric pressure cooker have 2 or more selectable pressure settings or weights.
Non-standard pressure settings[edit]
Some pressure cookers have a lower or higher maximum pressure than 1 bar/15 psi (gauge) or can be adjusted to different pressures for some recipes; cooking times will increase or decrease accordingly. This is typically done by having different regulator weights or different pressure settings. If the recipe is devised for a higher pressure and the pressure cooker does not reach that pressure, the cooking time can be increased slightly to compensate. Electric pressure cookers operate at lower pressures than stovetop pressure cookers.
Operation[edit]
Liquid[edit]
Pressure cooking always requires liquid. Pressure cooking cannot be used for cooking methods that produce little steam such as roasting, pan frying, or deep frying. However, Kentucky Fried Chicken restaurants use a combination of pressure cooking and frying, with special pressure fryers in which the chicken's own juices supply the water. Cooking time is reduced substantially, to approximately 12 minutes per amount cooked,[citation needed] but the breading texture is much softer (less crispy) than deep-fried chicken since moisture remains in the breading. Thick sauces do not contain enough liquid to vaporize and create pressure, so they usually burn onto the interior base of the pressure cooker after prolonged heating. Sauces should be thickened after pressure cooking.
Bringing to pressure (stove top pressure cookers)[edit]
Food is placed inside the pressure cooker with a small amount of water or other liquid such as stock. Food is either cooked in the liquid or above the liquid to be steamed; the latter method prevents the transfer of flavors from the liquid. The lid is closed, the pressure setting is chosen and the pressure cooker is placed on a stove on the highest heat (less than high for induction cooking to allow air to be vented – see the section below for an explanation). Once the cooker reaches full pressure, the heat is lowered to maintain pressure; timing the recipe begins at this point. Recipes for foods using raising agents such as steamed puddings call for gentle pre-steaming, without pressure, in order to activate the raising agents prior to cooking and achieve a light, fluffy texture.
It takes several minutes for the pressure cooker to reach the selected pressure level. It can take around 10 minutes or longer depending on: the quantity of food, the temperature of the food (cold or frozen food delays pressurization), the amount of liquid, the power of the heat source and the size of the pressure cooker.
A common mistake is for the user to start timing when a colored pop-up indicator rises, which happens when there is the slightest increase in pressure, instead of waiting for the cooker to reach its selected pressure level. The typical pop-up indicator only shows that the cooker has pressure inside, which does not reliably signal that the cooker has reached the selected pressure. This pop-up indicator often acts as an interlock, preventing the lid from being opened while there is internal pressure. Manufacturers may use their own terminology for it, such as calling it a "locking indicator."
As the internal temperature rises, the pressure also rises until it reaches the design gauge pressure. Timing the recipe begins when the selected pressure is reached. With first generation designs, the pressure regulator weight begins levitating above its nozzle, allowing excess steam to escape. In second generation pressure cookers, either a relief valve subsequently opens, releasing steam to prevent the pressure from rising any further or a rod rises with markers to indicate the pressure level, without constantly venting steam. At this stage, the heat source should be reduced to the lowest possible heat that still maintains pressure, as extra heat wastes energy and increases liquid loss.[11]
Removal of air[edit]
Before the pressure cooker lid is sealed airtight, the internal air has to be mostly replaced by steam. Steam has a much higher specific heat than air, and the presence of steam rather than air inside the pressure cooker is how it's able to transfer sufficient heat into the parts of the food that aren't submerged in liquid, such as a pot roast. If the lid is sealed before enough air has been removed, not enough heat can be transferred to the food, and food may be undercooked; the presence of air would make the food cook more like it's in an oven than a pressure cooker. To remove the air, steam is vented for several minutes to replace the volume of air inside the cooker. This is why a pressure cooker takes about 10 minutes to reach pressure. For pressure cookers with a weight, the weight is placed over the steam vent pipe while steam is being emitted, to ensure the air inside has escaped. The newer generation pressure cookers, which have no weights, automatically expel air from inside for several minutes before a coloured pop-up indicator pin rises to seal the lid airtight; pressure then builds in the now airtight cooker. If the pressure cooker is already hot or a stovetop pressure cooker is placed on a very strong heat source – such as induction on too high a setting, the lid can seal airtight too quickly before the air inside has been removed. In these situations, a slightly lower heat setting can be used to allow the water to boil slower in order to vent the air.
Food containers[edit]
Small containers such as plastic pudding containers, can be used in a pressure cooker, provided that the containers (and any covering used) can withstand temperatures of 130 °C (266 °F) and are not placed directly on the interior base. The containers can be used for cooking foods that are prone to burning on the base of the pressure cooker. A lid for the container may be used, provided that the lid allows some steam to come into contact with the food and the lid is securely fitted; an example is foil or greaseproof paper, pleated in the center and tied securely with string. Containers that are cracked or have otherwise sustained damage are not suitable. Cooking time is longer when using covered containers because the food is not in direct contact with the steam. Since non-metal containers are poorer heat conductors, the type of container material stated in the recipe cannot be substituted without affecting the outcome. For example, if the recipe time is calculated using a stainless steel container and a plastic container is used instead, the recipe will be undercooked, unless the cooking time is increased. Containers with thicker sides, e.g., oven-proof glass or ceramic containers, which are slower to conduct heat, will add about 10 minutes to the cooking time. Liquid can be added inside the container when pressure cooking foods such as rice, which need to absorb liquid in order to cook properly.
Pre-frying ingredients[edit]
The flavor of some foods, such as meat and onions, can be improved by gently cooking with a little pre-heated cooking oil, butter or other fat in the open pressure cooker[11] over medium heat (unless the manufacturer advises against this) before pressure cooking. It is important both not to overheat the empty pressure cooker and never to heat the empty cooker with the lid and gasket in place. Overheating can cause warping and other damage. The pressure cooker needs to cool briefly before adding liquid;[11] otherwise some of the liquid will evaporate instantly, possibly leaving insufficient liquid for the entire pressure cooking time; if deglazing the pan, this has to be taken into account.
Pressure release methods[edit]
After cooking, there are three ways of releasing the pressure, either quickly or slowly, before the lid can be opened. Recipes for pressure cookers state which release method is required at the end of the cooking time for proper results. Failure to follow the recommendation may result in food that is under-cooked or over-cooked. Only one of these release methods is used after timing, as recommended in the recipe.
To avoid opening the pressure cooker too often while cooking different vegetables with varying cooking times, the vegetables that take longer to cook can be cut into smaller pieces and vegetables that cook faster can be cut into thicker pieces.[11]
Manual, normal, regular, or automatic release[edit]
This method is sometimes called a quick release, not to be confused with the cold water release (mentioned below). It involves the quick release of vapor by gradually lifting (or removing) the valve, pushing a button, or turning a dial. It is most suitable to interrupt cooking to add food that cooks faster than what is already in the cooker. For example, since meat takes longer to cook than vegetables, it is necessary to add vegetables to stew later so that it will cook only for the last few minutes. Unlike the cold water release method, this release method does not cool down the pressure cooker. The user must release the steam with caution to avoid being scalded. This release method is not suitable for foods that foam and froth while cooking; the hot contents might spray outwards due to the pressure released from the steam vent. This release method takes about two minutes to release the pressure before the lid can be opened.
Natural release[edit]
The natural release method allows the pressure to drop slowly; this is achieved by removing the pressure cooker from the heat source and allowing the pressure to lower without action. It takes approximately 10 to 15 minutes (possibly longer) for the pressure to disappear before the lid can be opened. On many pressure cookers, a coloured indicator pin will drop when the pressure has gone. This natural release method is recommended for foods that foam and froth during cooking, such as rice, legumes, or recipes with raising agents such as steamed puddings. The texture and tenderness of meat cooked in a pressure cooker can be improved by using the natural release method.[11] The natural release method finishes cooking foods or recipes that have longer cooking times because the inside of the pressure cooker stays hot. This method is not recommended for foods that require very short cooking times, otherwise the food overcooks.
Cold water quick release[edit]
This method is the fastest way of releasing pressure with portable pressure cookers, but can be dangerous if performed incorrectly. It is therefore safer to release pressure by following the other methods. It is recommended to read the manufacturer's instruction book, as some may advise against the cold water release or require it to be performed differently.
The cold water release method involves using slow running cold tap water, over the edge of the pressure cooker lid, being careful to avoid the steam vent or any other valves or outlets and never immersing the pressure cooker under water, otherwise steam can be ejected from under the lid, which could cause scalding injury to the user; also the pressure cooker lid can be permanently damaged by an internal vacuum if water gets sucked into the pressure cooker, since the incoming water blocks the inrush of air.
The cold water release is most suitable for foods with short cooking times. It takes about 20 seconds for the cooker to cool down enough to lower the pressure so that it can be safely opened. This method is not suitable for electric pressure cookers, as they are not "immersible."
The cold water release method is not recommended when cooking pulses e.g. red kidney beans, as the sudden release of pressure can cause the bean to burst its skin.
Advantages[edit]
Foods cook much faster with pressure cooking than with other methods (except for small quantities in microwave ovens). Pressure cooking requires much less water than conventional boiling, so food can be ready sooner. Less energy is required than that of boiling, steaming, or oven cooking. Since less water or liquid has to be heated, the food reaches its cooking temperature faster. Using more liquid than necessary wastes energy because it takes longer to heat up; the liquid quantity is stated in the recipe. Pressure cookers can use much less liquid than the amount required for boiling or steaming in an ordinary saucepan. It is not necessary to immerse food in water. The minimum quantity of water or liquid used in the recipe to keep the pressure cooker filled with steam is sufficient. Because of this, vitamins and minerals are not leached (dissolved) away by water, as they would be if food were boiled in large amounts of water. Due to the shorter cooking time, vitamins are preserved relatively well during pressure cooking.[12]

Custom Tab For All Products

ABOUT US

2FUMBE is currently a well known brand of supplies and home appliances around the Uganda. The brand which started with a range of ceramic and glassware has now expanded its products range to refridgerators, microwaves , electric & gas cookers and many more household products. Then company's approach of highest level of customization and its focus on premium quality products has led to the acceptance of its products in all parts of the East Africa and across all sections of society.

Over the past 2 years, we have taken great steps towards growth. Thanks to the constant effort, creativity and innovation of the management, we at 2fumbe, are building on our achievements, striving to procure our current agendas and are able to draw new strategic plans to adapt to latest developments.

Save Your Time & Money on Sourcing Home Appliances. Visit our social media pages @2fumbe(instagram | facebook | twitter) or simply call/whatsapp +256 775 914 080 to order and get free delivery.

MISSION

Our goal definitely is to be No.1 in household and kitchen supply. Our mission is to make 2Fumbe a synonym for quality & excellence and ensure its global presence. This is to be achieved by observing highest standards of ethics, transparency and consistency.

We also strive to provide the highest level of customer satisfaction possible, while maintaining competitive market prices and working towards expanding the product line. Within the company we will strive to work as a cohesive, harmonious unit focused on exemplifying our mission.

The company fosters the ideals of meeting customers' needs and developing good healthy relationships with partners in business, combined with a professional commitment to satisfaction, which together will help to ensure the company's success.