« Return to Previous Page
Electric Outdoor Barbecue Grill-(Black and Steel)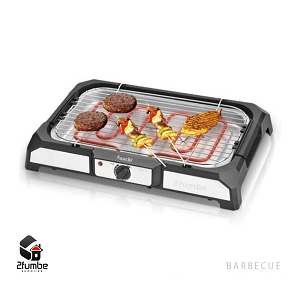 Electric Outdoor Barbecue Grill-(Black and Steel)
---
An Electric Outdoor Barbecue Grill is comprised of;-
Material: Durable stainless steel heating elements
Automatic Control with thermostat
Adjustable grill height
Removable grill tray
42 x 24cm surface
Compact and portable
---
---
Description

Product Description

An electric outdoor barbecue grill is a device that cooks food by applying heat from below.
There are several varieties of grills, with most falling into one of two categories: gas-fueled or charcoal.
There is debate over which method yields superior results.

Grilling has existed in the America since pre-Colonial times. The Arawak people of South America roasted meat on a wooden structure called a barbacoa in Spanish.

For centuries, the term barbacoa referred to the wooden structure and not the act of grilling, but it was eventually modified to "barbecue."
It was also applied to the pit-style cooking techniques now frequently used in the Southeastern United States.
Barbecue was originally used to slow-cook hogs; however, different ways of preparing food led to regional variations.
Over time, other foods were cooked in a similar fashion, with hamburgers and hot dogs being recent additions.

The LazyMan Model AP, the world's first portable gas grill taken during the summer of 1954.
Edward G. Kingsford invented the modern charcoal briquette.
Kingsford was a relative of Henry Ford who assigned him the task of establishing a Ford auto parts plant and sawmill in northern Michigan, a challenge that Kingsford embraced.
The local community grew and was named Kingsford in his honor. Kingsford noticed that Ford's Model T production lines were generating a large amount of wood scraps that were being discarded. He suggested to Ford that a charcoal manufacturing facility be established next to the assembly line to process and sell charcoal under the Ford name (Kingsford (charcoal)) at Ford dealerships.
Several years after Kingsford's death, the chemical company was sold to local businessmen and renamed the Kingsford Chemical Company.
George Stephen created the iconic hemispherical grill design, jokingly called "Sputnik" by Stephen's neighbors.

Stephen, a welder, worked for Weber Brothers Metal Works, a metal fabrication shop primarily concerned with welding steel spheres together to make buoys.
Stephen was tired of the wind blowing ash onto his food when he grilled so he took the lower half of a buoy, welded three steel legs onto it, and fabricated a shallower hemisphere for use as a lid.
He took the results home and following some initial success, started the Weber-Stephen Products Co.

An electric outdoor barbecue grill has a heating element either embedded within the cooking surface or directly below it.
A drip pan catches the grease and fat that cooks out of the meat.
Electric outdoor grills are typically portable, and most are small enough to place on a table or countertop.

When cleaning an electric outdoor barbecue grill, here are the steps to follow;-

1.Step 1: Unplug your grill. Before you do anything, make sure that your electric grill is unplugged. …
2.Step 2: Let grill cool and then wipe off grease. …
3.Step 3: Use soapy sponge to wet down burnt on grime. …
4.Step 4: Wipe down with a damp rag. …
5.Step 5: Wipe once more with dry paper towels.

Custom Tab For All Products

ABOUT US

2FUMBE is currently a well known brand of supplies and home appliances around the Uganda. The brand which started with a range of ceramic and glassware has now expanded its products range to refridgerators, microwaves , electric & gas cookers and many more household products. Then company's approach of highest level of customization and its focus on premium quality products has led to the acceptance of its products in all parts of the East Africa and across all sections of society.

Over the past 2 years, we have taken great steps towards growth. Thanks to the constant effort, creativity and innovation of the management, we at 2fumbe, are building on our achievements, striving to procure our current agendas and are able to draw new strategic plans to adapt to latest developments.

Save Your Time & Money on Sourcing Home Appliances. Visit our social media pages @2fumbe(instagram | facebook | twitter) or simply call/whatsapp +256 775 914 080 to order and get free delivery.

MISSION

Our goal definitely is to be No.1 in household and kitchen supply. Our mission is to make 2Fumbe a synonym for quality & excellence and ensure its global presence. This is to be achieved by observing highest standards of ethics, transparency and consistency.

We also strive to provide the highest level of customer satisfaction possible, while maintaining competitive market prices and working towards expanding the product line. Within the company we will strive to work as a cohesive, harmonious unit focused on exemplifying our mission.

The company fosters the ideals of meeting customers' needs and developing good healthy relationships with partners in business, combined with a professional commitment to satisfaction, which together will help to ensure the company's success.