« Return to Previous Page
330L verticle cooler glass door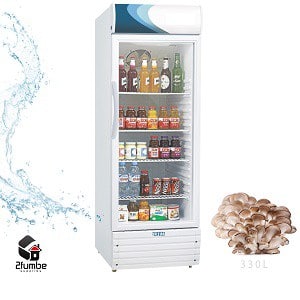 330L verticle cooler glass door
---
VERTICAL COOLER
Capacity: 330L
Climate Suitability: ST
Temperature Range (C): 0-10C
Energy Consumption: 1.8 Kwh/24h
Power Input: 180W
Voltage/Frequency: 220V/50Hz
Refrigerant gas: R134a
Cold Control: Mechanical Dial
Evaporator: Skin Tube Coil
Cabinet Material: Coated Steel Sheet
Cabinet Color: White
Drainage: Yes
Blow Agent: R141B
Shelves: Coated Wires, 4
Cabinet Liner: Powder Coated Aluminium
Inside Cabinet Color: White
Foot: 4 Wheels + 2 Adjustable Screws
Inner Vertical Light: Optional
Outer Ad Light: Yes
Ad Light Top Casing: Yes
Plug Option: BS/VDE
Condenser: External
Number of Doors: 1
Door Type: Double Layered Floating Glass
Door Frame: PVC
Door Frame Color: White
Lock: Yes
Handle: Recessed
Condenser: External
Product Dimension(L*W*D)(mm): 590*557*1834
Product Weight (Kg): 58
FREE DELIVERY
---
---
Description

Product Description

A vertical cooler refrigerator is a popular business appliance.
It consists of a thermally insulated compartment.
It has a heat pump that transfers heat from the inside of the fridge to its external environment so that the inside of the fridge is cooled to a temperature below the ambient temperature of the room.
Refrigeration is an essential food storage technique in developed countries.
The lower temperature lowers the reproduction rate of bacteria. This enables the vertical cooler refrigerator reduce on the rate of spoilage.
The cooler maintains a temperature a few degrees above the freezing point of water.
Optimum temperature range for perishable food storage is 3 to 5 °C (37 to 41 °F).
A similar device that maintains a temperature below the freezing point of water is called a freezer.

Merits of a Vertical cooler refrigerator

Vertical Cooler refrigerator is extremely reliable.
Its moving parts and fluids are sealed from the atmosphere for life with no possibility of leakage or contamination.
Frost-free refrigerators that use a cold plate in their refrigerator section instead of airflow from the freezer section never shut off their refrigerator fans during defrosting.
This allows consumers to leave food in the main refrigerator compartment uncovered.
It also helps keep vegetables moist.
This method also helps reduce energy consumption.
The refrigerator is above freeze point.
It can pass the warmer-than-freezing air through the evaporator or cold plate to aid the defrosting cycle.

This 2fumbe 330 litre vertical Cooler fridge comes with a glass door good for supermarket, shop, exhibition and promotional displays both indoor and outdoor.
It has a silent compressor and an automatic thermostat which switches off when the desired temperature is reached and when switches on when exceeded.
It has an excellent performance with a reliable operation and less power consumption.
It is easy to move the vertical cooler refrigerator from place to place

Custom Tab For All Products

ABOUT US

2FUMBE is currently a well known brand of supplies and home appliances around the Uganda. The brand which started with a range of ceramic and glassware has now expanded its products range to refridgerators, microwaves , electric & gas cookers and many more household products. Then company's approach of highest level of customization and its focus on premium quality products has led to the acceptance of its products in all parts of the East Africa and across all sections of society.

Over the past 2 years, we have taken great steps towards growth. Thanks to the constant effort, creativity and innovation of the management, we at 2fumbe, are building on our achievements, striving to procure our current agendas and are able to draw new strategic plans to adapt to latest developments.

Save Your Time & Money on Sourcing Home Appliances. Visit our social media pages @2fumbe(instagram | facebook | twitter) or simply call/whatsapp +256 775 914 080 to order and get free delivery.

MISSION

Our goal definitely is to be No.1 in household and kitchen supply. Our mission is to make 2Fumbe a synonym for quality & excellence and ensure its global presence. This is to be achieved by observing highest standards of ethics, transparency and consistency.

We also strive to provide the highest level of customer satisfaction possible, while maintaining competitive market prices and working towards expanding the product line. Within the company we will strive to work as a cohesive, harmonious unit focused on exemplifying our mission.

The company fosters the ideals of meeting customers' needs and developing good healthy relationships with partners in business, combined with a professional commitment to satisfaction, which together will help to ensure the company's success.