« Return to Previous Page
25L microwave oven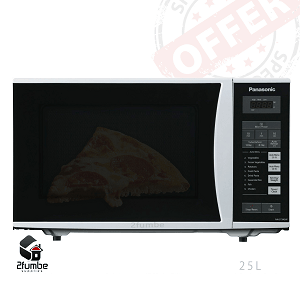 25L microwave oven
---
COMPACT AND STYLISH 25l MICROWAVE OVEN
With nine different auto menu programs to choose from, all you have to do is enter the food category and weight for each meal to be automatically cooked to perfection.
You also benefit from the Auto Reheat and Turbo Defrost modes to ensure that your food will be ready in a flash.
The microwave boats an acrylic lining to make cleaning quick and easy.
Just wipe it over after use and cleaning is done. An additional feature is, the Child Lock; providing the extra security by ensuring that little fingers cant interfere with your programing.
Capacity (L) 25
Turntable (mm): 288
Microwave Power (W): 800
Features
Colour: Face White
Colour: Outer Body
White
Door Window Finish: Plastic
Oven Interior: Epoxy
Control Panel: Touch
Display: LCD
Cook Menu: 9 Auto
Reheat: Auto
Variable Power Levels 5
Defrost: Turbo Defrost
Child Safety Lock Yes
General
Maximum Power Input (W, A)1270, 5.5
Net Weight (kg) 12.7
Outer Dimensions (W x H x D mm) 485 x 287 x 400 mm
Oven Cavity Dimensions (W x H x D mm) 315 x 227 x 349 mm
Accessories Glass Turntable
---
---
Description

Product Description

In case you are looking to buy microwave oven online that covers most of your cooking needs, then the
Panasonic NNST342W 25L Microwave Oven is the one for you. It boasts a number of features that will help you prepare your favorite dishes is no time. This white Panasonic convection microwave boasts of a 25L capacity that allows you to cook large amounts of food in a single batch. This microwave is equipped with a touch panel display that allows you extreme ease of use. The Panasonic NN ST342W 25L Microwave Oven has Auto Reheat and Turbo Defrost options to help you speed up the process of cooking.
The safe child lock featuring on this small microwave protects it from the reach of your children and prevents them from meddling with the settings.
Physical Features

Key Features
25 Litre
800W
9 Auto Menus
Turbo Defrost

A Friend in Need
The Panasonic NN
ST342W 25L Microwave Oven gives you an 800W output and is soon going to become an indispensable part of your kitchen. It boasts numerous specs that are going to make cooking an easy and hassle free activity. This microwave includes nine different auto menus that allow you to cook certain dishes in a jiffy. Thanks to the auto cooking menus, you only need to select a dish, and this microwave will cook it to perfection for you. The convection heat feature of this microwave cooks your food rapidly and evenly.

Ease in Use
Microwaves have become the new age cooking devices that allow you to cook, bake, and even reheat and defrost. The
Panasonic NN
ST342W 25L Microwave Oven has been designed to do all this without breaking a sweat. Boasting of wipe clean interior, this device is also very easy to clean and maintain post use.

Custom Tab For All Products

ABOUT US

2FUMBE is currently a well known brand of supplies and home appliances around the Uganda. The brand which started with a range of ceramic and glassware has now expanded its products range to refridgerators, microwaves , electric & gas cookers and many more household products. Then company's approach of highest level of customization and its focus on premium quality products has led to the acceptance of its products in all parts of the East Africa and across all sections of society.

Over the past 2 years, we have taken great steps towards growth. Thanks to the constant effort, creativity and innovation of the management, we at 2fumbe, are building on our achievements, striving to procure our current agendas and are able to draw new strategic plans to adapt to latest developments.

Save Your Time & Money on Sourcing Home Appliances. Visit our social media pages @2fumbe(instagram | facebook | twitter) or simply call/whatsapp +256 775 914 080 to order and get free delivery.

MISSION

Our goal definitely is to be No.1 in household and kitchen supply. Our mission is to make 2Fumbe a synonym for quality & excellence and ensure its global presence. This is to be achieved by observing highest standards of ethics, transparency and consistency.

We also strive to provide the highest level of customer satisfaction possible, while maintaining competitive market prices and working towards expanding the product line. Within the company we will strive to work as a cohesive, harmonious unit focused on exemplifying our mission.

The company fosters the ideals of meeting customers' needs and developing good healthy relationships with partners in business, combined with a professional commitment to satisfaction, which together will help to ensure the company's success.