« Return to Previous Page
20L Microwave Oven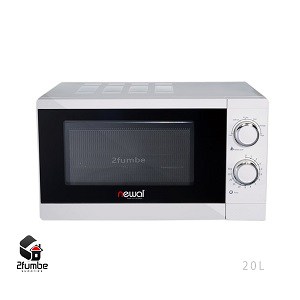 20L Microwave Oven
---
Capacity 20L
• Express cooking & speedy defrost
• Transparent glass
• White body
• White cavity
• Auto cook menu
• Power: 700w
---
---
Description

Product Description

A microwave oven (commonly referred to as a microwave) is a kitchen appliance that heats and cooks food by exposing it to electromagnetic radiation in the microwave frequency range. This induces polar molecules in the food to rotate and produce thermal energy in a process known as dielectric heating. Microwave ovens heat foods quickly and efficiently because excitation is fairly uniform in the outer 25–38 mm (1–1.5 inches) of a homogeneous, high water content food item; food is more evenly heated throughout than generally occurs in other cooking techniques.

The development of the cavity magnetron in the UK made possible the production of electromagnetic waves of a small enough wavelength (microwaves). American engineer Percy Spencer is generally credited with inventing the modern microwave oven after World War II from radar technology developed during the war. Named the "Radarange", it was first sold in 1946. Raytheon later licensed its patents for a home-use microwave oven that was first introduced by Tappan in 1955, but these units were still too large and expensive for general home use. The countertop microwave oven was first introduced in 1967 by the Amana Corporation, and their use has spread into commercial and residential kitchens around the world. In addition to their use in cooking food, types of microwave ovens are used for heating in many industrial processes.

Microwave ovens are popular for reheating previously cooked foods and cooking a variety of foods. They are also useful for rapid heating of otherwise slowly prepared cooking items, such as hot butter, fats, and chocolate. Unlike conventional ovens, microwave ovens usually do not directly brown or caramelize food, since they rarely attain the necessary temperatures to produce Maillard reactions. Exceptions occur in rare cases where the oven is used to heat frying-oil and other very oily items (such as bacon), which attain far higher temperatures than that of boiling water.

Microwave ovens have a limited role in professional cooking,[1] because the boiling-range temperatures produced in especially hydrous foods impede flavors produced by the higher temperatures of frying, browning, or baking. However, additional heat sources can be added to microwave ovens.

Custom Tab For All Products

ABOUT US

2FUMBE is currently a well known brand of supplies and home appliances around the Uganda. The brand which started with a range of ceramic and glassware has now expanded its products range to refridgerators, microwaves , electric & gas cookers and many more household products. Then company's approach of highest level of customization and its focus on premium quality products has led to the acceptance of its products in all parts of the East Africa and across all sections of society.

Over the past 2 years, we have taken great steps towards growth. Thanks to the constant effort, creativity and innovation of the management, we at 2fumbe, are building on our achievements, striving to procure our current agendas and are able to draw new strategic plans to adapt to latest developments.

Save Your Time & Money on Sourcing Home Appliances. Visit our social media pages @2fumbe(instagram | facebook | twitter) or simply call/whatsapp +256 775 914 080 to order and get free delivery.

MISSION

Our goal definitely is to be No.1 in household and kitchen supply. Our mission is to make 2Fumbe a synonym for quality & excellence and ensure its global presence. This is to be achieved by observing highest standards of ethics, transparency and consistency.

We also strive to provide the highest level of customer satisfaction possible, while maintaining competitive market prices and working towards expanding the product line. Within the company we will strive to work as a cohesive, harmonious unit focused on exemplifying our mission.

The company fosters the ideals of meeting customers' needs and developing good healthy relationships with partners in business, combined with a professional commitment to satisfaction, which together will help to ensure the company's success.