« Return to Previous Page
20L Microwave oven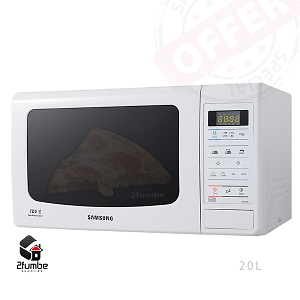 20L Microwave oven
---
Push & Save
Eco Button enables you to save standby power by up to 40%. Just push, and save the money, power and the earth.
Design you can handle
If you are one of those people who are only comfortable using their microwave to make popcorn, you're not alone. But now our new design will change the way you feel about microwaves. Grab the ergonomic handle and its just as easy on your grip as it is on the eyes.
Gaze through the wide tempered black window and clearly see the progress of whatever you're cooking. Press Tact button & rotate Dial knob to easily and accurately select the pre-set time you want. We've put a lot of thought into this design because man cannot live on popcorn alone.
Three Waves are Better Than One.
Samsung, we prides itself in improving every product they make with innovative technologies. Our Triple Distribution System ensures that everything from pizza to warm milk comes out perfectly prepared and delicious every time thanks to three microwave distribution points. With our microwave ovens, you'll enjoy consistently even, thorough cooking.
FEATURES:
20 Liters Oven Capacity
Power Consumption (Microwave) 1150 W
Outside (WxHxD) 489 mm x 275 mm x 320 mm
---
---
Description

Product Description

A microwave oven (commonly referred to as a microwave) is a kitchen appliance that heats and cooks food by exposing it to microwave radiation in the electromagnetic spectrum. This induces polar molecules in the food to rotate and produce thermal energy in a process known as dielectric heating. Microwave ovens heat foods quickly and efficiently because excitation is fairly uniform in the outer 25–38 mm (1–1.5 inches) of a homogeneous, high water content food item; food is more evenly heated throughout (except in heterogeneous, dense objects) than generally occurs in other cooking techniques.
Percy Spencer is generally credited with inventing the modern microwave oven after World War II from radar technology developed during the war. Named the "Radarange", it was first sold in 1946. Raytheon later licensed its patents for a home-use microwave oven that was first introduced by Tappan in 1955, but these units were still too large and expensive for general home use. The countertop microwave oven was first introduced in 1967 by the Amana Corporation, and their use has spread into commercial and residential kitchens around the world.
Microwave ovens are popular for reheating previously cooked foods and cooking a variety of foods. They are also useful for rapid heating of otherwise slowly prepared cooking items, such as hot butter, fats, and chocolate. Unlike conventional ovens, microwave ovens usually do not directly brown or caramelize food, since they rarely attain the necessary temperatures to produce Maillard reactions. Exceptions occur in rare cases where the oven is used to heat frying-oil and other very oily items (such as bacon), which attain far higher temperatures than that of boiling water.
Microwave ovens have a limited role in professional cooking,[1] because the boiling-range temperatures produced in especially hydrous foods impede flavors produced by the higher temperatures of frying, browning, or baking. However, additional heat sources can be added to microwave ovens, or into combination microwave ovens, to produce these other heating effects, and microwave heating may cut the overall time needed to prepare such dishes. Some modern microwave ovens are part of over-the-range units with built-in extractor hoods.

The Samsung ME733K Solo Microwave in an eccentric white and striking metal finish, will fit perfectly into any kitchen. Cook for all the family with this ample 20L capactity. Microwave power output 800 watts. 7 programmes. Defrost option.
General information:
Anti-bacterial interior.
Interior capacity 20 litres.
25.5cm diameter rotating turntable.
Size H28, W49, D32cm.
Weight 12kg.

Custom Tab For All Products

ABOUT US

2FUMBE is currently a well known brand of supplies and home appliances around the Uganda. The brand which started with a range of ceramic and glassware has now expanded its products range to refridgerators, microwaves , electric & gas cookers and many more household products. Then company's approach of highest level of customization and its focus on premium quality products has led to the acceptance of its products in all parts of the East Africa and across all sections of society.

Over the past 2 years, we have taken great steps towards growth. Thanks to the constant effort, creativity and innovation of the management, we at 2fumbe, are building on our achievements, striving to procure our current agendas and are able to draw new strategic plans to adapt to latest developments.

Save Your Time & Money on Sourcing Home Appliances. Visit our social media pages @2fumbe(instagram | facebook | twitter) or simply call/whatsapp +256 775 914 080 to order and get free delivery.

MISSION

Our goal definitely is to be No.1 in household and kitchen supply. Our mission is to make 2Fumbe a synonym for quality & excellence and ensure its global presence. This is to be achieved by observing highest standards of ethics, transparency and consistency.

We also strive to provide the highest level of customer satisfaction possible, while maintaining competitive market prices and working towards expanding the product line. Within the company we will strive to work as a cohesive, harmonious unit focused on exemplifying our mission.

The company fosters the ideals of meeting customers' needs and developing good healthy relationships with partners in business, combined with a professional commitment to satisfaction, which together will help to ensure the company's success.