« Return to Previous Page
office coffee maker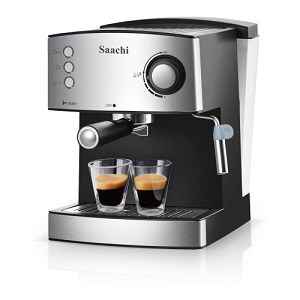 office coffee maker
---
OFFICE COFFEE MAKER
Espresso/Cappuccino/Cafe Latte and more 15 Bars Steam Preasure Steam Nozzle for Froth Keep-warm Function.
Bored of plain old coffee? Looking for a little more variety? You got it!
The new Saachi coffee maker NL-COF-7056 can make many different styles of coffee including espresso, cappuccino, cafe latte and many others.
The steam nozzle allows you complete control over the amount of froth you desire in your coffee. The keep-warm tray on top of the appliance allows you to keep a cup of coffee warm while you prepare to make another one, handy when entertaining guests.
FEATURES
ColorSteel
Size in Liters1.6 Liter
Beverage Form: Liquid
Brand: Saachi
Color:Black Steel
Frequency50 60 Hz
Model Number:7056
Package weight in KGs: 2.5
Power: 850W
Steam Preasure: Bars15
Type: Single Serve Coffe Maker
Voltage:AC 220-240 V
Water Tank Capacity:1.6L
FREE DELIVERY
---
---
Description

Product Description

Coffeemakers or coffee machines are cooking appliances used to brew coffee. While there are many different types of coffeemakers using a number of different brewing principles, in the most common devices, coffee grounds are placed in a paper or metal filter inside a funnel, which is set over a glass or ceramic coffee pot, a cooking pot in the kettle family. Cold water is poured into a separate chamber, which is then heated up to the boiling point, and directed into the funnel. This is also called automatic drip-brew.

There were lots of innovations from France in the late 18th century. With help from Jean-Baptiste de Belloy, the Archbishop of Paris, the idea that coffee should not be boiled gained acceptance. The first modern method for making coffee using a coffee filter—drip brewing—is more than 125 years old, and its design had changed little. The biggin, originating in France ca. 1780, was a two-level pot holding coffee in a cloth sock in an upper compartment into which water was poured, to drain through holes in the bottom of the compartment into the coffee pot below. Coffee was then dispensed from a spout on the side of the pot. The quality of the brewed coffee depended on the size of the grounds – too coarse and the coffee was weak; too fine and the water would not drip the filter. A major problem with this approach was that the taste of the cloth filter – whether cotton, burlap or an old sock – transferred to the taste of the coffee. Around the same time, a French inventor developed the "pumping percolator", in which boiling water in a bottom chamber forces itself up a tube and then trickles (percolates) through the ground coffee back into the bottom chamber. Among other French innovations, Count Rumford, an eccentric American scientist residing in Paris, developed a French Drip Pot with an insulating water jacket to keep the coffee hot. Also, the first metal filter was developed and patented by French inventor.

Custom Tab For All Products

ABOUT US

2FUMBE is currently a well known brand of supplies and home appliances around the Uganda. The brand which started with a range of ceramic and glassware has now expanded its products range to refridgerators, microwaves , electric & gas cookers and many more household products. Then company's approach of highest level of customization and its focus on premium quality products has led to the acceptance of its products in all parts of the East Africa and across all sections of society.

Over the past 2 years, we have taken great steps towards growth. Thanks to the constant effort, creativity and innovation of the management, we at 2fumbe, are building on our achievements, striving to procure our current agendas and are able to draw new strategic plans to adapt to latest developments.

Save Your Time & Money on Sourcing Home Appliances. Visit our social media pages @2fumbe(instagram | facebook | twitter) or simply call/whatsapp +256 775 914 080 to order and get free delivery.

MISSION

Our goal definitely is to be No.1 in household and kitchen supply. Our mission is to make 2Fumbe a synonym for quality & excellence and ensure its global presence. This is to be achieved by observing highest standards of ethics, transparency and consistency.

We also strive to provide the highest level of customer satisfaction possible, while maintaining competitive market prices and working towards expanding the product line. Within the company we will strive to work as a cohesive, harmonious unit focused on exemplifying our mission.

The company fosters the ideals of meeting customers' needs and developing good healthy relationships with partners in business, combined with a professional commitment to satisfaction, which together will help to ensure the company's success.