« Return to Previous Page
coffee grinder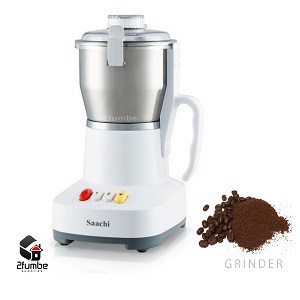 coffee grinder
---
COFFEE GRINDER
A good grinder means fresh and flavorful coffee every time.
Even the nicest brewers can produce lousy coffee without a strategically selected grind and wisely chosen grinder.
FEATURES
•  300gms capacity
•  2 speed control with pulse function
•  Can be used to grind spices
•  Stainless steel grinding cup and blades
•  Transparent lid with safety interlock
•  Powerful motor
FREE DELIVERY & TUTORING
---
Description

Product Description

The uniform particle size achieved using a coffee grinder can be desirable for coffee preparation. However, some methods of brewing may be more tolerant of the range of particle sizes produced by a blade grinder; this may be the case for percolated coffee. Regardless, burr coffee grinders are more suited for keeping the flavor and aroma of the coffee beans intact.[citation needed] This is because burr mills produce less heat from friction compared to blade grinders;[citation needed] this is especially important for coffee aficionados looking to get the most flavor from the freshly ground beans, as heat from friction lessens or taints the natural flavor.[citation needed] Burr grinders create less friction and require lower motor speeds, which reduces potential flavor loss due to heat.
Burr grinders obtain these lower speeds through two mechanisms. The lower cost models generally use a small electric motor to drive a series of reduction gears, while better constructed and more costly examples use a larger commercial motor and a belt, with no gear reduction to spin the burrs. The latter example is termed "direct drive". The reduction gear versions are noisier and usually do not have the lifespan of the direct drive units.
Electrical powered coffee grinders are available in many variations. Some grinders are "stepped" meaning that they are fixed by the factory into a set series of adjustments while "stepless" varieties use a worm drive or other mechanisms to offer an infinite number of adjustments within their grind range. Other variations include grinders that are equipped with dosers and others that are "doserless". Dosers function as a catch bin to collect the ground coffee and by using a lever, users are able to dose a set amount of coffee. Doserless versions remove the bin and dosing function, and the grinder outputs the ground coffee directly into an espresso machine portafilter or into another container. The doserless examples normally feature additional functions such as weight based or advance time based grinding in order for a barista to grind for an exact amount of grounds required for a specific espresso shot.
Manual coffee grinders have been largely supplanted by electrically powered ones where the object is simply to get the job done; manual grinders are used more for their appearance, and are often more costly than electric models. An exception is the manual Turkish coffee grinder; these are inexpensive, and can grind coffee to fine powder for Turkish coffee, unlike electric models.
Many grinders are free-standing; some larger coffee grinders are fixed to a wall.

Custom Tab For All Products

ABOUT US

2FUMBE is currently a well known brand of supplies and home appliances around the Uganda. The brand which started with a range of ceramic and glassware has now expanded its products range to refridgerators, microwaves , electric & gas cookers and many more household products. Then company's approach of highest level of customization and its focus on premium quality products has led to the acceptance of its products in all parts of the East Africa and across all sections of society.

Over the past 2 years, we have taken great steps towards growth. Thanks to the constant effort, creativity and innovation of the management, we at 2fumbe, are building on our achievements, striving to procure our current agendas and are able to draw new strategic plans to adapt to latest developments.

Save Your Time & Money on Sourcing Home Appliances. Visit our social media pages @2fumbe(instagram | facebook | twitter) or simply call/whatsapp +256 775 914 080 to order and get free delivery.

MISSION

Our goal definitely is to be No.1 in household and kitchen supply. Our mission is to make 2Fumbe a synonym for quality & excellence and ensure its global presence. This is to be achieved by observing highest standards of ethics, transparency and consistency.

We also strive to provide the highest level of customer satisfaction possible, while maintaining competitive market prices and working towards expanding the product line. Within the company we will strive to work as a cohesive, harmonious unit focused on exemplifying our mission.

The company fosters the ideals of meeting customers' needs and developing good healthy relationships with partners in business, combined with a professional commitment to satisfaction, which together will help to ensure the company's success.