« Return to Previous Page
4 in1 juicer blender grinder plus mincer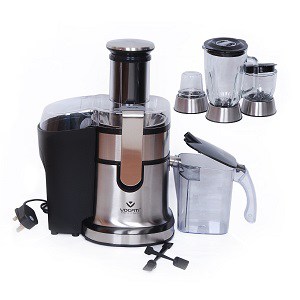 4 in1 juicer blender grinder plus mincer
---
4 IN 1 JUICER BLENDER
Your gateway of serving variety of smoothies everyday.
Make your own fresh juices, blend homemade soups with ease.
FEATURES
Touch control with LED display
Unbreakable Juicer lid
5 speeds with pulse switch control
Slow start start-up technology, longer motor life
Stainless steel blade and filter basket
Stainless steel body and locking clamp
1 Liter safety interlock Juice Jug
2 Liter large pulp container
AC 220~240V 50/60Hz 800W powerful motor
FREE DELIVERY
---
---
Description

Product Description

A 4 in1 juicer blender grinder plus mincer (also known as juicing machine or juice extractor) is a tool used to extract juice from fruits, herbs, leafy greens and other types of vegetables in a process called juicing.[1] It crushes, grinds, and/or squeezes the juice out of the pulp.[2]
Some types of juicers can also function as a food processor.[3] Most of the twin gear and horizontal masticating juicers have attachments for crushing herbs and spices, extruding pasta, noodles or bread sticks, making baby food and nut butter, grinding coffee, making nut milk, etc.

4 in1 juicer blender grinder plus mincer
A trailer used to juice, pasteurize, and package apple juice on site
A 4 in1 juicer blender grinder plus mincer, such as a fruit press or wine press, is a larger scale that are used in agricultural production. These presses can be stationary or mobile. A mobile press has the advantage that it can be moved from one orchard to another. The process is primarily used for apples and involves a stack of apple mash, wrapped in fine mesh cloth, which is then pressed under approx 40 tonnes. These machines are popular in Europe and have now been introduced to North America.

Steam juice extractor
A typical three part steam juicer ready for use.
A stovetop steam juice extractor is typically a pot to generate steam that used to heat a batch of berries (or other fruit) in a perforated pot stacked on top of a juice collecting container that is above the steam pot. The juice is extracted without mechanical means so it is remarkably clear and because of the steam heating it is also pasteurized for long term storage.

Masticating juicers
A masticating juicer uses a single auger to compact and crush produce into smaller sections before squeezing out its juice along a static screen while the pulp is expelled through a separate outlet.[5]

Custom Tab For All Products

ABOUT US

2FUMBE is currently a well known brand of supplies and home appliances around the Uganda. The brand which started with a range of ceramic and glassware has now expanded its products range to refridgerators, microwaves , electric & gas cookers and many more household products. Then company's approach of highest level of customization and its focus on premium quality products has led to the acceptance of its products in all parts of the East Africa and across all sections of society.

Over the past 2 years, we have taken great steps towards growth. Thanks to the constant effort, creativity and innovation of the management, we at 2fumbe, are building on our achievements, striving to procure our current agendas and are able to draw new strategic plans to adapt to latest developments.

Save Your Time & Money on Sourcing Home Appliances. Visit our social media pages @2fumbe(instagram | facebook | twitter) or simply call/whatsapp +256 775 914 080 to order and get free delivery.

MISSION

Our goal definitely is to be No.1 in household and kitchen supply. Our mission is to make 2Fumbe a synonym for quality & excellence and ensure its global presence. This is to be achieved by observing highest standards of ethics, transparency and consistency.

We also strive to provide the highest level of customer satisfaction possible, while maintaining competitive market prices and working towards expanding the product line. Within the company we will strive to work as a cohesive, harmonious unit focused on exemplifying our mission.

The company fosters the ideals of meeting customers' needs and developing good healthy relationships with partners in business, combined with a professional commitment to satisfaction, which together will help to ensure the company's success.