« Return to Previous Page
Thermos travel mug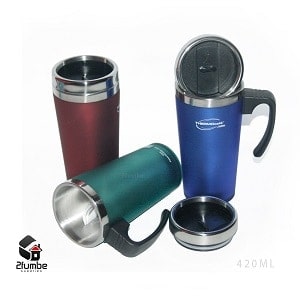 Thermos travel mug
---
THERMOS TRAVEL MUG
Specifications.
Thermos travel mugs have vacuum insulation technology for maximum temperature retention and a durable stainless steel interior and exterior. It has a lid with one-handed push button operation which is made to resist stains and provide durability. It as well has a sweat-proof exterior which is cool to the touch with hot liquids and good with cold making it comfortable for use.
In conclusion, this kind of thermos travel mug fits most automobile cup holders hence saving the trouble of holding the thermos travel mug while travelling.
Capacity: 420 ml
---
---
Description

Product Description

If you often find yourself in a hurry, this thermos stainless travel mug will be perfect for you. Almost any hot or cold can be quickly poured into the mug, so you can take it with you wherever you go. And if you soon become bored with your daily morning coffee, all you need to do is add some foamed milk and try using different varieties of coffee syrup to rapidly transform your daily fix into a tasty speciality coffee such as a vanilla or caramel macchiato. Black tea also makes a great alternative to classic coffee thanks to its high caffeine content.

Trendsetters enjoy their coffee on their way to the office – but not in a paper cup, please! By buying take-out coffee every day, not only are you going to waste a lot of money in the long run, but you will also be harming the environment. A cheaper and above all more environmentally-friendly option is to prepare your own coffee at home and take it with you in a vacuum mug.

Or alternatively, you could always ask the barista to brew your take-out coffee in your own thermos stainless travel mug instead of a paper cup. If you're going to do this then a high-quality mug is an absolute must. Make sure yours is leak-proof and drip-proof, as this is the only way you will be able to pop it in your handbag or rucksack without having a second thought or worrying about it. Why not try the trendy 100% leak-proof thermos stainless travel mug, which will not only keep your drink hot for a remarkably long time but also has a practical 360 degree all-round drinking aperture, allowing you to drink your beverage from any side without a single drip.

The 100% leak-proof vacuum TRAVEL MUG comes with a handy Quick Press seal and can be easily opened with the press of a button. What's more, it has also already received several awards.

Custom Tab For All Products

ABOUT US

2FUMBE is currently a well known brand of supplies and home appliances around the Uganda. The brand which started with a range of ceramic and glassware has now expanded its products range to refridgerators, microwaves , electric & gas cookers and many more household products. Then company's approach of highest level of customization and its focus on premium quality products has led to the acceptance of its products in all parts of the East Africa and across all sections of society.

Over the past 2 years, we have taken great steps towards growth. Thanks to the constant effort, creativity and innovation of the management, we at 2fumbe, are building on our achievements, striving to procure our current agendas and are able to draw new strategic plans to adapt to latest developments.

Save Your Time & Money on Sourcing Home Appliances. Visit our social media pages @2fumbe(instagram | facebook | twitter) or simply call/whatsapp +256 775 914 080 to order and get free delivery.

MISSION

Our goal definitely is to be No.1 in household and kitchen supply. Our mission is to make 2Fumbe a synonym for quality & excellence and ensure its global presence. This is to be achieved by observing highest standards of ethics, transparency and consistency.

We also strive to provide the highest level of customer satisfaction possible, while maintaining competitive market prices and working towards expanding the product line. Within the company we will strive to work as a cohesive, harmonious unit focused on exemplifying our mission.

The company fosters the ideals of meeting customers' needs and developing good healthy relationships with partners in business, combined with a professional commitment to satisfaction, which together will help to ensure the company's success.