« Return to Previous Page
black dinnerset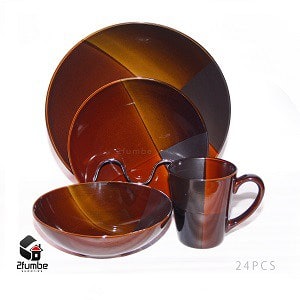 black dinnerset
---
<strong>DINNER SET</strong>
Make dining a stylish occasion every day with our excellent selection of tableware.
Microwave and dishwasher safe.
Black strip and animal engraving.
<strong>CONTENT: 24PCS</strong>
6 Cups
6 Bowls
6 Side plates
6 Dinner plates
<strong>FREE DELIVERY</strong>
---
---
Description

Product Description

Tableware is the dishes or dishware used for setting a table, serving food and dining. It includes cutlery, glassware, serving dishes and other useful items for practical as well as decorative purposes.[1][2] The quality, nature, variety and number of objects varies according to culture, religion, number of diners, cuisine and occasion. For example, Middle Eastern, Indian or Polynesian food culture and cuisine sometimes limits tableware to serving dishes, using bread or leaves as individual plates. Special occasions are usually reflected in higher quality tableware.[3]
"Dinnerware" is another term used to refer to tableware and "crockery" refers to ceramic dishes in everyday use as differentiated them from the fine porcelain and bone china produced by makers such as Sèvres in France, Meissen in Germany, Royal Copenhagen in Denmark, Royal Doulton in England, or Belleek Pottery in Ireland.[4] Sets of dishes are referred to as a table service, dinner service or service set. Table settings or place settings are the dishes, cutlery and glassware used for formal and informal dining. In Ireland such items are normally referred to as delph, the word being an English language phonetic spelling of the word delft, the town from which so much delftware came. Silver service or butler service are methods for a butler or waiter to serve a meal.
Setting the table refers to arranging the tableware, including individual place settings for each diner at the table as well as decorating the table itself in a manner suitable for the occasion. Tableware and table decoration is typically more elaborate for special occasions. Unusual dining locations demand tableware be adapted.

Custom Tab For All Products

ABOUT US

2FUMBE is currently a well known brand of supplies and home appliances around the Uganda. The brand which started with a range of ceramic and glassware has now expanded its products range to refridgerators, microwaves , electric & gas cookers and many more household products. Then company's approach of highest level of customization and its focus on premium quality products has led to the acceptance of its products in all parts of the East Africa and across all sections of society.

Over the past 2 years, we have taken great steps towards growth. Thanks to the constant effort, creativity and innovation of the management, we at 2fumbe, are building on our achievements, striving to procure our current agendas and are able to draw new strategic plans to adapt to latest developments.

Save Your Time & Money on Sourcing Home Appliances. Visit our social media pages @2fumbe(instagram | facebook | twitter) or simply call/whatsapp +256 775 914 080 to order and get free delivery.

MISSION

Our goal definitely is to be No.1 in household and kitchen supply. Our mission is to make 2Fumbe a synonym for quality & excellence and ensure its global presence. This is to be achieved by observing highest standards of ethics, transparency and consistency.

We also strive to provide the highest level of customer satisfaction possible, while maintaining competitive market prices and working towards expanding the product line. Within the company we will strive to work as a cohesive, harmonious unit focused on exemplifying our mission.

The company fosters the ideals of meeting customers' needs and developing good healthy relationships with partners in business, combined with a professional commitment to satisfaction, which together will help to ensure the company's success.