« Return to Previous Page
Dozen cored mugs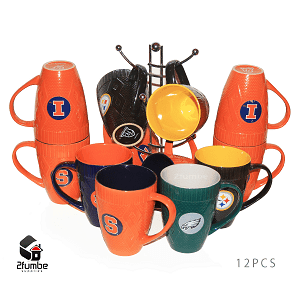 Dozen cored mugs
---
Explore Anthropologie's unique coffee mugs and teacups that make the perfect gift for yourself or a loved one.
Fine ceramic
Red color
Round handle
Round shaped
12 pieces
Free cup stand
---
---
Description

Product Description

Dozen colored mugs are drinking cups that are cylindrical in shape, having a handle, and often of a heavy substance, as earthenware.
Formerly known as "drinking vessel," in the 1560s, "bowl, pot, jug," of unknown origin, perhaps from Scandinavian (cf. Swedish mugg "mug, jug," Norwegian mugge "pitcher, open can for warm drinks"), or Low German mokke, mukke "mug," also of unknown origin.

You can easily get the 2fumbe dozen colored mugs at your door step with just a simple addition to the cart and they will be delivered instantly.

Custom Tab For All Products

ABOUT US

2FUMBE is currently a well known brand of supplies and home appliances around the Uganda. The brand which started with a range of ceramic and glassware has now expanded its products range to refridgerators, microwaves , electric & gas cookers and many more household products. Then company's approach of highest level of customization and its focus on premium quality products has led to the acceptance of its products in all parts of the East Africa and across all sections of society.

Over the past 2 years, we have taken great steps towards growth. Thanks to the constant effort, creativity and innovation of the management, we at 2fumbe, are building on our achievements, striving to procure our current agendas and are able to draw new strategic plans to adapt to latest developments.

Save Your Time & Money on Sourcing Home Appliances. Visit our social media pages @2fumbe(instagram | facebook | twitter) or simply call/whatsapp +256 775 914 080 to order and get free delivery.

MISSION

Our goal definitely is to be No.1 in household and kitchen supply. Our mission is to make 2Fumbe a synonym for quality & excellence and ensure its global presence. This is to be achieved by observing highest standards of ethics, transparency and consistency.

We also strive to provide the highest level of customer satisfaction possible, while maintaining competitive market prices and working towards expanding the product line. Within the company we will strive to work as a cohesive, harmonious unit focused on exemplifying our mission.

The company fosters the ideals of meeting customers' needs and developing good healthy relationships with partners in business, combined with a professional commitment to satisfaction, which together will help to ensure the company's success.