« Return to Previous Page
12 Pcs Granite Coating Cookware Set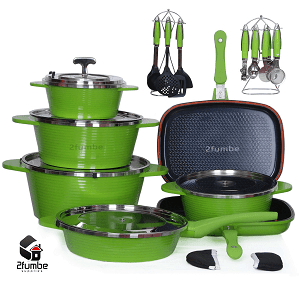 12 Pcs Granite Coating Cookware Set
---
12 Pcs Granite Coating Cookware Set is designed with a very fine layer of granite that promotes healthy cooking in the house.
This dishwasher safe cookware is designed to be cooked with minimal oil and butter for a healthier lifestyle. This theme is embedded across all the healthy pots and pans and provides for easy cleanup. As a result, this has one of the best cookware sets reviews on the market.
Made of cast aluminium, conducts heat quickly using less energy.
Granite surface requires less of cooking oil and guarantees quick clean up.
Die-cast aluminium handles are shaped for comfort.
Heat resistant clear glass lid can also be used as a serving plate.
Plastic or wooden utensils recommended.
Dish washer safe, although hand washing is always recommended to protect the longevity of the granite surface.
Dimensions;-
1X2O CM Casserole
1X24 CM Casserole
1X28 CM Casserole
1X32 CM Casserole
1X28 CM Shallow Pot
32 CM Double Grill Pan
---
---
Description

Product Description

12 Pcs Granite Coating Cookware Set surface is a surface engineered to reduce the ability of other materials to stick to it.
Non-stick cookware is a common application, where the non-stick coating allows food to brown without sticking to the pan.
Granite coating cookware sets are types of food preparation dishes, commonly found in a kitchen.
Cookware comprises cooking vessels, such as saucepans and frying pans, intended for use on a stove or range cooktop.
The choice of material for cookware items has a significant effect on the item's performance (and cost), particularly in terms of thermal conductivity and how much food sticks to the item when in use.
Some choices of material also require special pre-preparation of the surface—known as seasoning—before they are used for food preparation.

Both the cooking pot and lid handles can be made of the same material but will mean that, when picking up or touching either of these parts, oven gloves will need to be worn.
A good cooking pot design has an 'overcook edge' which is what the lid lies on.
The lid has a dripping edge that avoids condensation fluid from dripping off when handling the lid (taking it off and holding it 45°) or putting it down.

With other types of pans, some oil or fat is required to prevent hot food from sticking to the pan's surface. Food does not have the same tendency to stick to a non-stick surface; pans can be used with less, or no, oil, and are easier to clean, as residues do not stick to the surface.

Non-stick pans must not be overheated. The coating is stable at normal cooking temperatures, even at the smoke point of most oils; however, if a non-stick pan is preheated while empty, its temperate may quickly exceed 260 °C (500 °F), above which the non-stick coating may begin to deteriorate, changing color and losing its non-stick properties.
Above 350 °C (662 °F), the material decomposes rapidly and emits toxic fumes, which are especially toxic to birds, and can cause polymer fume fever in humans.

On the other hand, some sticking is needed to cause sacs to form, so a non-stick pan cannot be used where a pan sauce is desired.
Nonstick coatings tend to degrade over time.
In order to preserve the coating, it is important never to use metal implements or harsh scouring pads or chemical abrasives when cleaning.

Custom Tab For All Products

ABOUT US

2FUMBE is currently a well known brand of supplies and home appliances around the Uganda. The brand which started with a range of ceramic and glassware has now expanded its products range to refridgerators, microwaves , electric & gas cookers and many more household products. Then company's approach of highest level of customization and its focus on premium quality products has led to the acceptance of its products in all parts of the East Africa and across all sections of society.

Over the past 2 years, we have taken great steps towards growth. Thanks to the constant effort, creativity and innovation of the management, we at 2fumbe, are building on our achievements, striving to procure our current agendas and are able to draw new strategic plans to adapt to latest developments.

Save Your Time & Money on Sourcing Home Appliances. Visit our social media pages @2fumbe(instagram | facebook | twitter) or simply call/whatsapp +256 775 914 080 to order and get free delivery.

MISSION

Our goal definitely is to be No.1 in household and kitchen supply. Our mission is to make 2Fumbe a synonym for quality & excellence and ensure its global presence. This is to be achieved by observing highest standards of ethics, transparency and consistency.

We also strive to provide the highest level of customer satisfaction possible, while maintaining competitive market prices and working towards expanding the product line. Within the company we will strive to work as a cohesive, harmonious unit focused on exemplifying our mission.

The company fosters the ideals of meeting customers' needs and developing good healthy relationships with partners in business, combined with a professional commitment to satisfaction, which together will help to ensure the company's success.