« Return to Previous Page
6 gas burner cooker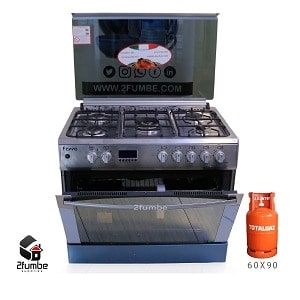 6 gas burner cooker
---
6 RING GAS COOKER
Brand : Ferre (Germany)
Size: 90X50
Oven Thermometer
Tempered glass cover
Digital LED Screen control screen
---
---
Description

Product Description

In cooking, a gas stove is a cooker/stove which uses natural gas, propane, butane, liquefied petroleum gas or other flammable gas as a fuel source. Prior to the advent of gas, cooking stoves relied on solid fuel such as coal or wood. The first gas stoves were developed in the 1820s, and a gas stove factory was established in England in 1836. This new cooking technology had the advantage that it was easily adjustable and could be turned off when not in use. However the gas stove did not become a commercial success until the 1880s, by which time a supply of piped gas was available in large towns in Britain. The stoves became widespread on the European Continent and in the United States in the early 20th century.

Gas stoves became less unwieldy when the oven was integrated into the base and the size was reduced to fit in better with the rest of the kitchen furniture. By the 1910s, producers started to enamel their gas stoves for easier cleaning. Ignition of the gas was originally by match and this was followed by the more convenient pilot light. This had the disadvantage of a continual consumption of gas. The oven still needed to be lit by match, and accidentally turning on the gas without igniting it could lead to an explosion. To prevent these types of accidents, oven manufacturers developed and installed a safety valve called a flame failure device for gas hobs (cooktops) and ovens. Most modern gas stoves have electronic ignition, automatic timers for the oven and extractor hoods to remove fumes.

Custom Tab For All Products

ABOUT US

2FUMBE is currently a well known brand of supplies and home appliances around the Uganda. The brand which started with a range of ceramic and glassware has now expanded its products range to refridgerators, microwaves , electric & gas cookers and many more household products. Then company's approach of highest level of customization and its focus on premium quality products has led to the acceptance of its products in all parts of the East Africa and across all sections of society.

Over the past 2 years, we have taken great steps towards growth. Thanks to the constant effort, creativity and innovation of the management, we at 2fumbe, are building on our achievements, striving to procure our current agendas and are able to draw new strategic plans to adapt to latest developments.

Save Your Time & Money on Sourcing Home Appliances. Visit our social media pages @2fumbe(instagram | facebook | twitter) or simply call/whatsapp +256 775 914 080 to order and get free delivery.

MISSION

Our goal definitely is to be No.1 in household and kitchen supply. Our mission is to make 2Fumbe a synonym for quality & excellence and ensure its global presence. This is to be achieved by observing highest standards of ethics, transparency and consistency.

We also strive to provide the highest level of customer satisfaction possible, while maintaining competitive market prices and working towards expanding the product line. Within the company we will strive to work as a cohesive, harmonious unit focused on exemplifying our mission.

The company fosters the ideals of meeting customers' needs and developing good healthy relationships with partners in business, combined with a professional commitment to satisfaction, which together will help to ensure the company's success.