« Return to Previous Page
Nicer Dicer Plus Cutter Slicer Chopper & Container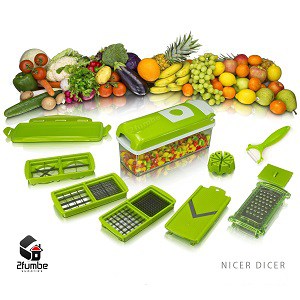 Nicer Dicer Plus Cutter Slicer Chopper & Container
---
Product Description and Features
Nicer Dicer Plus takes the cutting convenience of Nicer Dicer and takes it to a whole new level. Boasting a huge 1,500 ml capacity, with Nicer Dicer Plus you can cut in 11 different ways. You can slice, dice, cut, julienne, cube, wedge, quarter, grate and so much more. There are 5 blades, each made of ultra-sharp stainless steel. Just press down the lid and they'll easily cut through virtually any food. Each blade gives you a choice of different cutting sizes: cut into segments of 4 or 8, cube food in 3 different sizes… There's even a grater and a mandolin slicer, perfect for rapidly slicing cucumbers, carrots and potatoes. When you're done you can serve, or lock on the stay fresh lid and save for later. Food prep has never been so simple. Includes FREE peeler. Set includes: · Removable top part with self cleaning function · Cutting base · 1,500 ml container with measurements · Fresh keeping lid for container · Dual blade for cutting ¼" x ¼" or ½" x ½ "cubes · Dual blade for cutting ¾" x ¾" or ¼" x 1 ½ "cubes · Dual wedging blade (4 pieces or 8 pieces) · Cutting stamp for top part · Partial blade cover · Slicer with blade protector · Food holder for slicer · Grater with protective cover.
FREE DELIVERY
---
---
Custom Tab For All Products

ABOUT US

2FUMBE is currently a well known brand of supplies and home appliances around the Uganda. The brand which started with a range of ceramic and glassware has now expanded its products range to refridgerators, microwaves , electric & gas cookers and many more household products. Then company's approach of highest level of customization and its focus on premium quality products has led to the acceptance of its products in all parts of the East Africa and across all sections of society.

Over the past 2 years, we have taken great steps towards growth. Thanks to the constant effort, creativity and innovation of the management, we at 2fumbe, are building on our achievements, striving to procure our current agendas and are able to draw new strategic plans to adapt to latest developments.

Save Your Time & Money on Sourcing Home Appliances. Visit our social media pages @2fumbe(instagram | facebook | twitter) or simply call/whatsapp +256 775 914 080 to order and get free delivery.

MISSION

Our goal definitely is to be No.1 in household and kitchen supply. Our mission is to make 2Fumbe a synonym for quality & excellence and ensure its global presence. This is to be achieved by observing highest standards of ethics, transparency and consistency.

We also strive to provide the highest level of customer satisfaction possible, while maintaining competitive market prices and working towards expanding the product line. Within the company we will strive to work as a cohesive, harmonious unit focused on exemplifying our mission.

The company fosters the ideals of meeting customers' needs and developing good healthy relationships with partners in business, combined with a professional commitment to satisfaction, which together will help to ensure the company's success.