« Return to Previous Page
Ice cream/ Dessert maker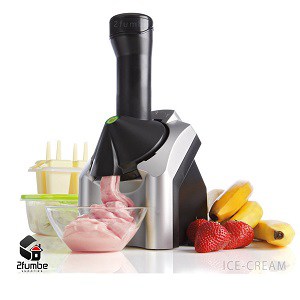 Ice cream/ Dessert maker
---
DESCRIPTION
Use Yonanas ice cream maker to turn desserts into yummy goodness! Make simple, elegant homemade desserts like cakes, pies,
bon bons and sorbets. Perfect for entertaining guests, snacks for the kids, or a yummy anytime treat.
Create delicious treats without the hassle of cleanup; as the chute, plunger, and blade are dishwasher safe.
FEATURES
Makes frozen dessert from fresh frozen fruits in minutes
Dishwasher-safe
Stainless steel fine shredding disc
Removable feeding chute and disc allows easy cleaning
Black and silver strong durable plastic housing
FREE DELIVERY
---
---
Description

Product Description

A domestic ice cream maker is a machine used to make small quantities of ice cream for personal consumption.
Ice cream makers may prepare the mixture by employing the hand-cranking method or by employing an electric motor. The resulting preparation is often chilled through either pre-cooling the machine or by employing a machine that freezes the mixture.
An ice cream maker has to simultaneously freeze the mixture while churning it so as to aerate the mixture and avoid ice crystals.
As a result, most ice creams are ready to consume immediately.
However, those containing alcohol must often be chilled further to attain a firm consistency.
Some machines, such as certain lower-priced countertop models, require the resulting mixture to be frozen for additional time after churning is complete.

Types of electric ice cream machines
There are four types of electric ice cream machines.
Each has an electric motor that drives the bowl or the paddle to stir the mixture.
The major difference among the three is how the cooling is performed.

Counter-top machines.
These use a double-walled bowl with a solution between the walls that freezes below 32°F or 0°C.
The paddles rotate, stirring the mixture as it gradually freezes through contact with the frozen bowl.
After 20-30 minutes, the solution between the double walls thaws, and the ice cream freezes.
The machine has the advantage of being relatively inexpensive.
However, a pre-frozen bowl makes only one batch at a time.
The bowl must be refrozen to make another batch.
Multi-batches require extra bowls for the machine, which require extra freezer space.

An ice cream maker that has to be placed inside the freezer.
The paddles stir the mixture to prevent formation of large ice crystals.
When the ice cream sufficiently freezes, the paddles automatically stop rotating and lift.
The mixture takes longer to freeze than other ice cream makers since it is cooled in the freezer.
It is not necessary to pre-freeze this type of ice cream maker.

This Yonauas ice cream and dessert maker from 2fumbe can help you make Fat free, Dairy free and Guilt free ice cream and Dessert and all of the materials are dishwasher safe.

Custom Tab For All Products

ABOUT US

2FUMBE is currently a well known brand of supplies and home appliances around the Uganda. The brand which started with a range of ceramic and glassware has now expanded its products range to refridgerators, microwaves , electric & gas cookers and many more household products. Then company's approach of highest level of customization and its focus on premium quality products has led to the acceptance of its products in all parts of the East Africa and across all sections of society.

Over the past 2 years, we have taken great steps towards growth. Thanks to the constant effort, creativity and innovation of the management, we at 2fumbe, are building on our achievements, striving to procure our current agendas and are able to draw new strategic plans to adapt to latest developments.

Save Your Time & Money on Sourcing Home Appliances. Visit our social media pages @2fumbe(instagram | facebook | twitter) or simply call/whatsapp +256 775 914 080 to order and get free delivery.

MISSION

Our goal definitely is to be No.1 in household and kitchen supply. Our mission is to make 2Fumbe a synonym for quality & excellence and ensure its global presence. This is to be achieved by observing highest standards of ethics, transparency and consistency.

We also strive to provide the highest level of customer satisfaction possible, while maintaining competitive market prices and working towards expanding the product line. Within the company we will strive to work as a cohesive, harmonious unit focused on exemplifying our mission.

The company fosters the ideals of meeting customers' needs and developing good healthy relationships with partners in business, combined with a professional commitment to satisfaction, which together will help to ensure the company's success.